Dr. Pascal Magne DMD, MSc, PhD
Our Biomimetic & Esthetic Dentistry Mentor
This page is dedicated to our mentor - Professor Magne.
He does not work here, please direct all correspondence to him directly. 
Every great dentist starts with a great mentor. Our mentor is Pascal Magne. He is a world leader and biomimetic and esthetic dentistry and we are extremely fortunate to have been mentored by him throughout our academic and professional careers.
Pascal Magne is a world-class dentist, researcher, and educator of Biomimetic and Esthetic Dentistry. He is famously known as the "Father of Biomimetic Dentistry" and his research has transformed the way dentistry is practiced. His emphasis is on minimally invasive treatment options that restore teeth and mimic the properties of natural teeth through strong adhesion. This allows teeth to be restored without excessive shaving or removal of healthy tooth structure, which is common in traditional restorative procedures such as crowns. Treatment with Biomimetic Dentistry is able to repair and restore teeth through strong adhesion, eliminating many of the problems that arise from traditional dentistry.
He is a full-time professor at the Herman Ostrow School of Dentistry of USC (University of Southern California), having trained and has mentored many of the top dentists around the world, including Beverly Hills dentist, Dr. Matt Nejad. Additionally, he has authored one of the most essential textbooks in dental history: Bonded Porcelain Restorations in the Anterior Dentition: A Biomimetic Approach.
Pascal Magne

Professor & Mentor

Academic Influence
Pascal Magne has been teaching at the Herman Ostrow School of Dentistry of USC since 2004. His research and expertise has shaped the dental curriculum,  providing students with a truly unique education that is many years ahead of other dental schools. Additionally, Pascal Magne provided advanced training to select students who ranked in the top of the pre-clinical courses (from 2006-2010). Dr. Nejad was in the last group of dentists to be trained in this selective program, completing the 18-month program and ranking first in his examination scores and clinical case experience.
Dr. Magne has been a mentor to Dr. Nejad since 2010, and Dr. Nejad has been recognized as one of his most accomplished and trusted students. They have worked on education, teaching, lectures, and research together over the years.
Pascal Magne's Classic Book: "Bonded Porcelain Restorations in the Anterior Dentition- A Biomimetic Approach"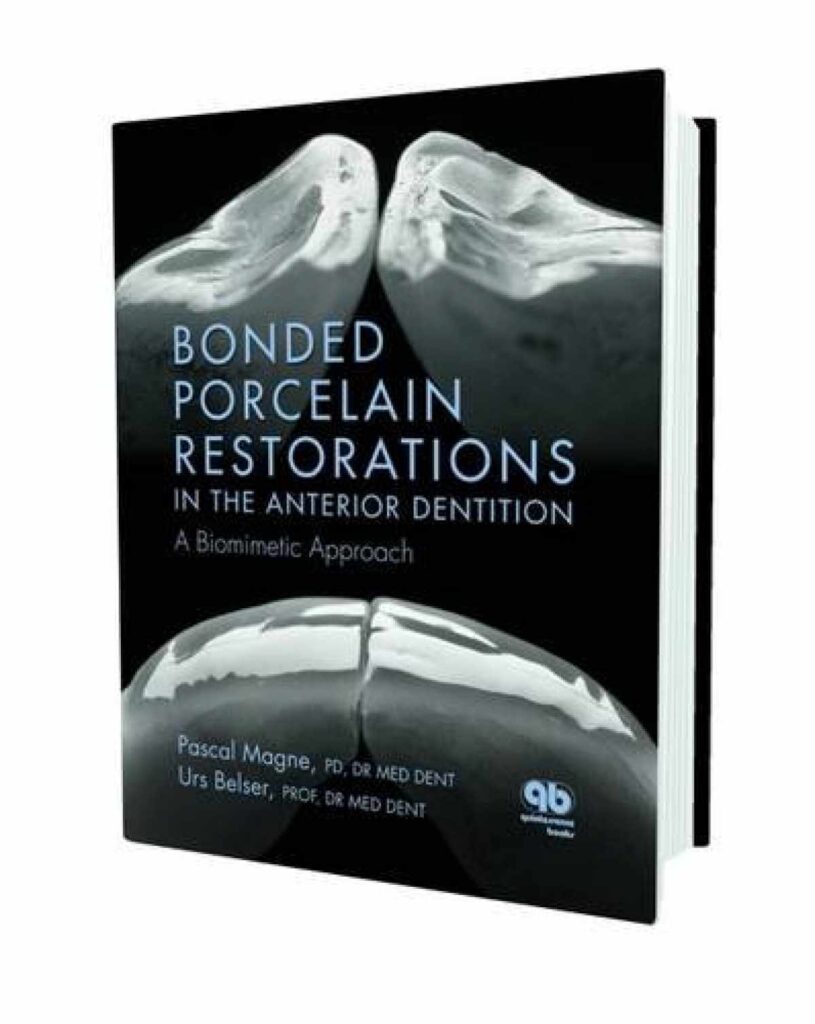 Dr. Magne authored the book Bonded Porcelain Restorations in the Anterior Dentition – A Biomimetic Approach (link) which has been translated into eight languages and is considered one of the most outstanding books in the field of adhesive and esthetic dentistry. Published in 2002, the book is timeless and essential for every dentist interested in practicing the most advanced dentistry,  supported by science. While the focus is on anterior teeth, the philosophies and concepts are applicable to all teeth.
Summary: This book introduces a unique approach to the esthetic restoration of the anterior dentition. Guided by the philosophy of biomimetics, the authors combine sound biologic principles with an overriding respect for the natural intact tooth to achieve esthetic satisfaction with bonded porcelain restorations. Unlike traditional veneers, the approach described here draws upon the ideal hues, the subtle shades, and especially the intracoronal anatomy of the intact tooth to serve as a guide to reconstruction and as a measurement of success. From this perspective, a checklist of fundamental esthetic criteria is presented, and treatment planning, diagnostics, tooth preparation, laboratory procedures, adhesive luting procedures, and maintenance protocols are carefully detailed. The reader will find all the information and step-by-step instruction needed to obtain the authors superior results, which are showcased throughout the book.
Photo Gallery
---
Chair of Aesthetic Dentistry
Don & Sybil Harrington Professor of Aesthetic Dentistry
Associate professor at Ostrow School of Dentistry of USC
USC Directory of Experts (click for more Info)