What is Digital Smile Design (DSD)?
Digital Smile Design (DSD) is a multipurpose conceptual protocol which provides remarkable advantages:
See what your smile will look like before beginning treatment.
Improved communication between doctors and patients.
Takes all facial features into account.
More predictable results.
Better-looking results!
Smile Design Expert
Having a beautiful smile requires precise planning of every detail.  Dr. Nejad is extremely talented at treatment planning and designing the smile of your dreams, using the latest technology to get the best results. The planning process begins with a thorough consultation to assess your treatment goals and objectives. Next, using high-quality photographs and digital scans, he is able to evaluate your facial aesthetics and do a digital smile design to simulate the proposed plan that compliments your unique facial aesthetics. Once the design is perfected, treatment can proceed with temporaries to test this design in your mouth and make any additional changes for the final restorations. With this process, the final result is never a surprise, and undesirable results are avoided.
Types of Smile Design
We use a variety of technologies to help plan your case. Dr. Nejad has been part of ongoing testing and development of smile designing software and uses the most advanced options on the market. Both 2D and 3D planning is routinely utilized in the planning process. We utilize a 3D printer which can translate any digital planning into an accurate 3D model of your planned treatment. Photoshop, powerpoint, and specialized software made for digital planning and printing is required to effectively utilize all aspects of digital smile design.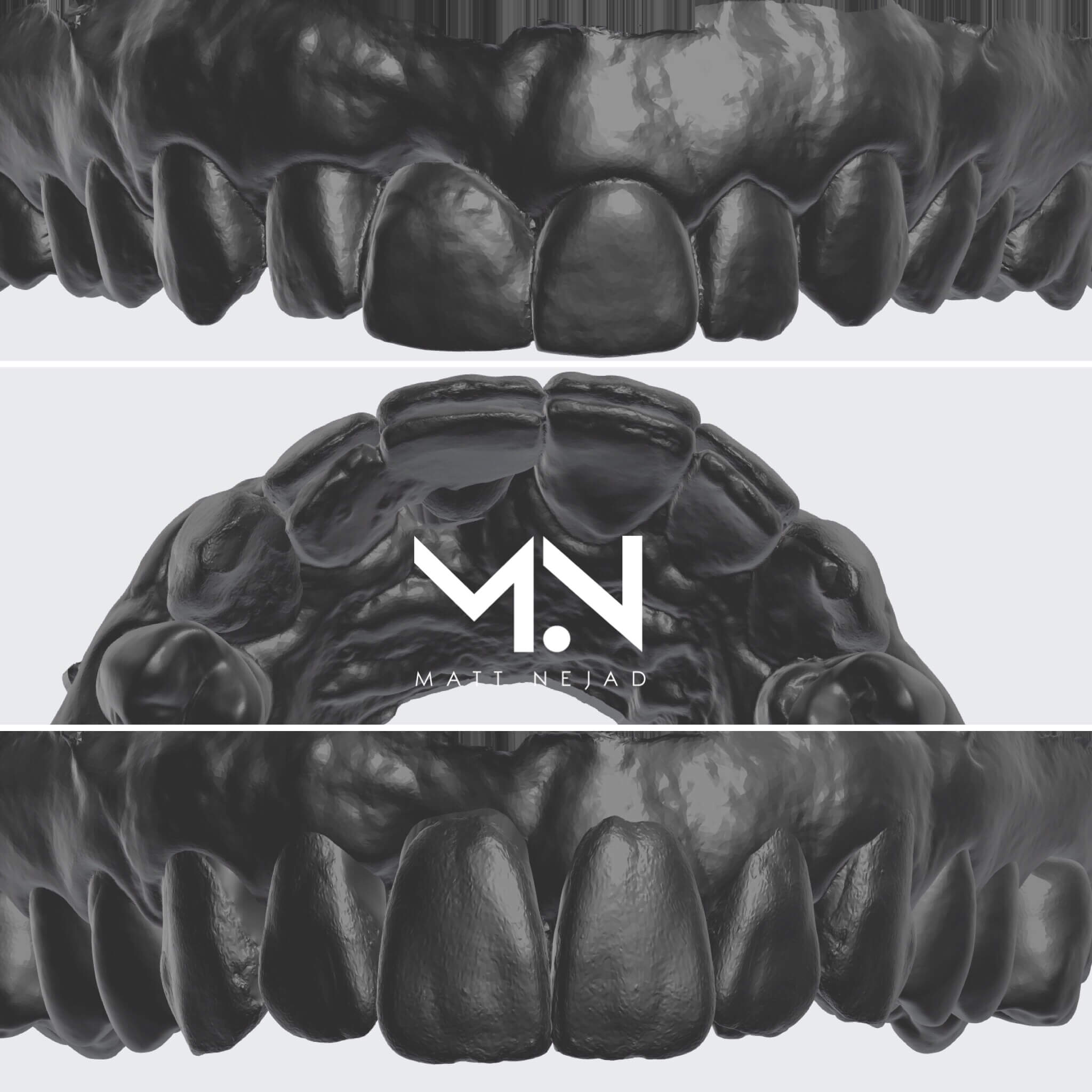 Digital 3D Conversion
After your smile design is completed in 2D, it is then converted to a 3D file. This 3D file can be printed using 3D printing technology and then used to fabricate a mockup or temporary to evaluate the smile design in your mouth. The major emphasis on smile design planning is to avoid surprises and find the best combination of length, shape, and angulation that fits your facial esthetic profile and personality. Patient's with precise goals or objectives for their teeth are also able to provide feedback and make changes during various stages of the planning process so that they can be incorporated into the final restorations.
Photoshop Simulation
Sometimes a photoshop treatment planning can help evaluate the cosmetic outcome of gum or teeth procedures. Check out this simple simulation involving modification of the gumline and teeth shapes prior to performing any treatment. This is a rapid and valuable tool prior to beginning definitive treatment.