Due to patient demand, we are are proud to unveil our new, privately-labeled, healthy alternative for toothpaste: "Healthy Glow" Toothpowder! We have partnered with our friends at Primal Life Organics to provide our patients a sustainable, healthy alternative to fluoride toothpastes. (Available in Peppermint and Spearmint flavors.)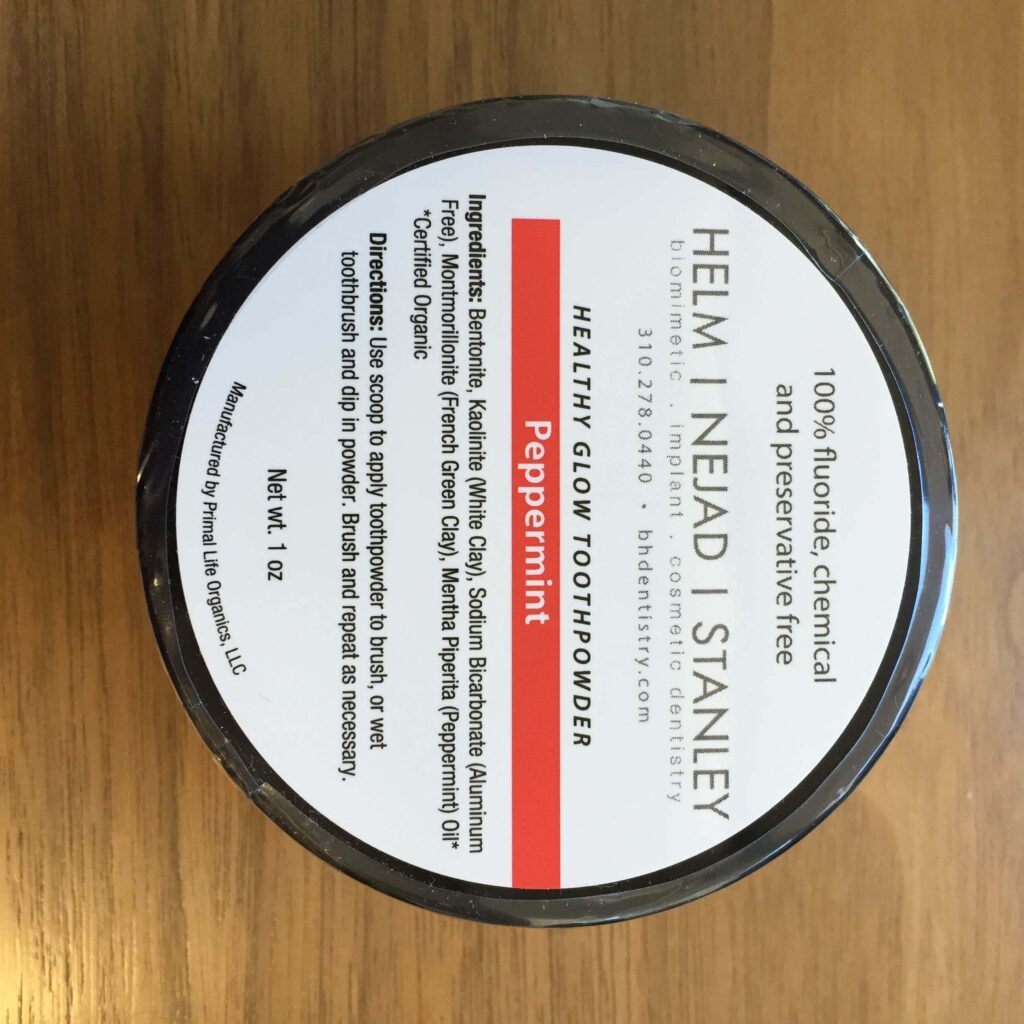 Why organic toothpaste?
We have always taken a patient-driven approach to dentistry, addressing all dental-related concerns of our patients. Among the biggest concerns our patients have (ourselves included) is, "what's in the toothpaste?" In the past, we have found that many commercial toothpastes recommended by the ADA contain ingredients that are unnecessary and harmful to the environment (see our blog post on plastic microbeads in toothpaste).
Although there are no current peer-reviewed studies that show the adverse effects of fluoride exposure, we understand that there is great concern about the chronic use of fluoride toothpaste. Below is a list of some of the benefits of our organic, fluoride-free, all-natural toothpowder.
Benefits of all-natural, organic Toothpowder:
Re-create the feeling you get after a professional cleaning from your hygienist at home… Naturally!
Microbead-free
Removes stains
Eliminates bad breath
Promotes healthy gums
No Animal Testing
Environmentally friendly & Eco-Friendly
Flouride-Free alternative
Kid-Friendly
SLS – Free
Vegan & Paleo Compliant
Chemical-Free
Natural & Organic Ingredients:
Bentonite Clay – is a mildly-abrasive clay that removes stains and has many detoxifying properties & helps the mouth maintain a healthy pH balance.
Kaolinite (White Clay) – rich in calcium and other minerals that help whiten teeth by removing stains.
Sodium Bicarbonate (Aluminum-Free) – neutralizes acids in the mouth, promoting a healthy, alkaline balance.
Montmorillonite (French Clay) – is abundant in trace minerals that promote the removal of toxins from the mouth.
Mentha Piperita (Peppermint) Oil, or Mentha Spicata (Spearmint) Oil – essential oils have many antiseptic properties and keep breath fresh!
Healthy Glow Toothpowder on Social Media:
Price: $22 plus tax & shipping
Directions:
Use scoop to apply powder to toothbrush, or wet toothbrush and dip in powder. Brush and repeat as necessary.