Silver fillings have been used in dentistry since 1826. They consist of mercury, silver, copper, tin, and other trace metals. Together these metals mix to form an alloy which is commonly known as a silver filling. The use of mercury in the fillings has resulted in widespread safety concerns and a history full of controversy. Despite the bad reputation, silver fillings continue to be placed because of the high survival rate, low cost, and the relative ease with which the filling can be provided compared to more expensive alternatives.
In addition to health and safety concerns from mercury, silver fillings fail to adequately restore the natural properties and strength of teeth. As a result, teeth with silver fillings face damaging long-term complications such as fractures, cracks, and root canals. Many of these old fillings are treated with crowns which could be avoided with a more natural, biomimetic treatment approach.
Biomimetic dentistry includes conservative white fillings or ceramic restorations that mimic the properties of natural teeth and protect teeth from long-term complications.
This article will cover the following:
The problems with silver fillings
Replacement options and treatment recommendations for silver fillings
The benefits of Biomimetic Dentistry for silver tooth replacement
THE PROBLEM WITH SILVER FILLINGS
Silver fillings have serious health and safety concerns, contain toxic mercury, and fail to adequately mimic the properties and structure of natural teeth. Teeth restored with silver fillings do not regain normal strength and function, leading to problems and complications which could have been prevented. Metal and silver fillings are NOT ideal replacements for natural tooth structure.
Silver Fillings Release Mercury
The fact is that mercury vapor is released from silver fillings, and scientists agree that mercury absorbed in high enough doses will cause health problems.
The published science indicates the amount of mercury released from silver fillings is below the FDA accepted daily intake of .4 micrograms per kilogram of body weight. The World Health Organization states that: "No controlled studies have been published demonstrating systemic adverse effects from amalgam restorations [silver fillings]." In turn, the American Dental Association supports the use of dental amalgam as a safe, affordable, and durable material. The FDA concludes "that there is insufficient evidence to support an association between exposure to mercury from dental amalgams and adverse health effects in humans."
In my opinion, it is nearly impossible to predict how much mercury exposure from silver fillings is "safe", but it is common sense that minimizing or eliminating this exposure is ideal. Mercury is extremely toxic and should be avoided as much as possible. There is strong evidence supporting the use of alternative mercury-free treatment options that can perform better and restore teeth more naturally. These alternative options include white fillings and ceramic restorations which are similar to natural tooth structure and eliminate unnecessary exposure to mercury.
Silver Fillings Are Economical Far From Ideal
Silver fillings have been used since 1826, but they do not meet any of the ideal properties for filling materials. They have been popular because they can be placed relatively quickly and they are usually cheaper to provide. However, the treatment cost can be misleading because complications from silver fillings often end up costing significantly more long-term than restoring teeth with a biomimetic approach. Fortunately, advancements in dental materials and techniques have completely eliminated the need for silver fillings.
Ideal Properties for Filling Materials:
Non-toxic
Biocompatible
Possible to form a strong seal to prevent leakage, cavities, and decay
Mimics natural tooth structure (Enamel, Dentin, DEJ)
Restores the strength and function of the tooth back to normal
Structural Integrity of Teeth Restored with Silver Fillings
Silver fillings are extremely stiff and they do not reconnect the tooth back together because there is no adhesion between the silver filling and your tooth. As a result, teeth restored with silver fillings are much weaker than intact teeth and experience more complications including fractues and cracks. Also, the placement of silver fillings requires shaving and removal of healthy portions of teeth as part of the technique requirements, leading to further weakening of the remaining tooth. Teeth with silver fillings experience complications including cracks, sensitivity, pain, gaps around the margins/edges, cavities, root canals, fractures and a higher chance of extraction.
Silver Teeth Needing Replacement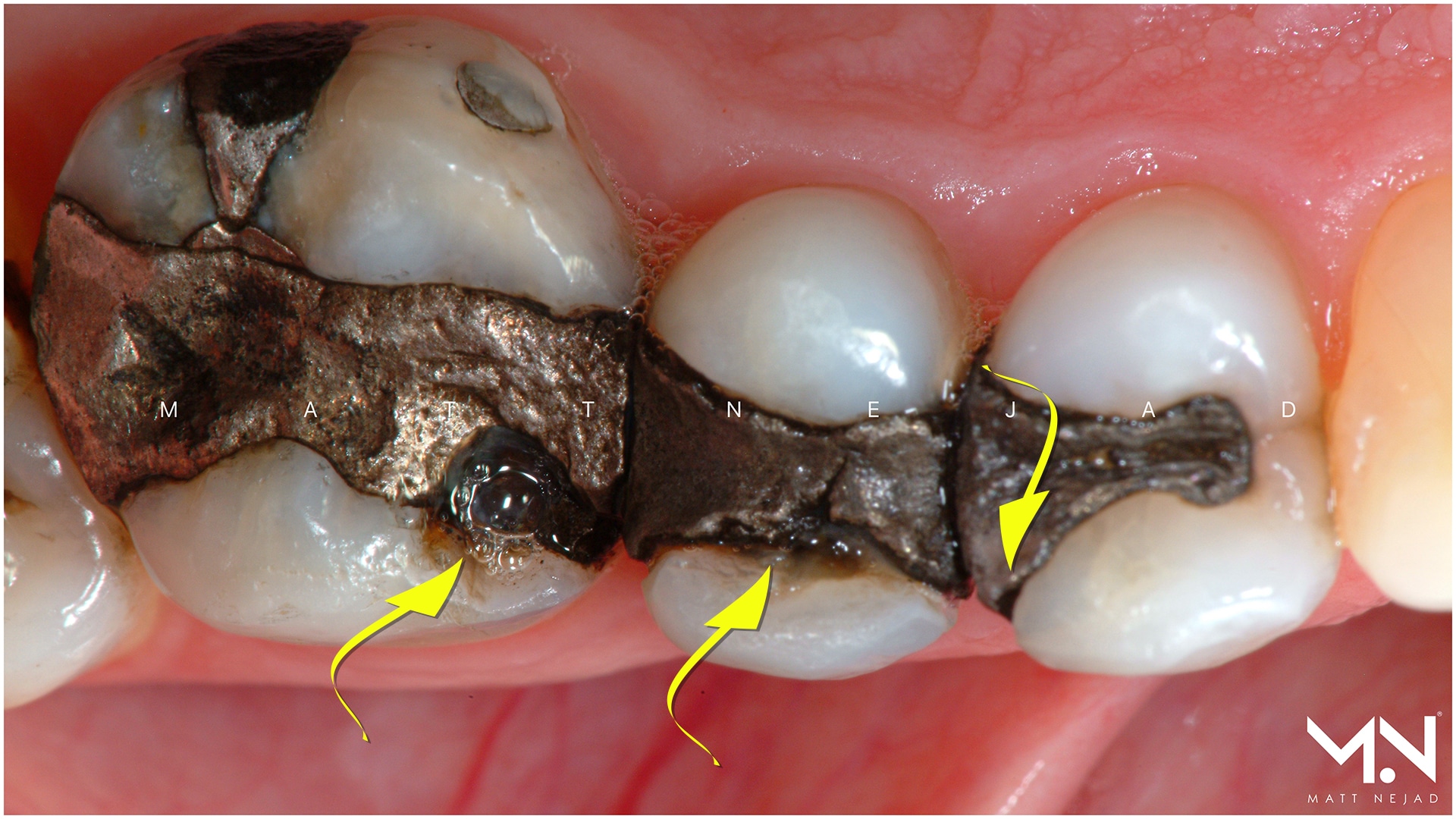 Silver fillings cause teeth to develop cracks
REPLACING SILVER FILLINGS – TREATMENT OPTIONS
The ideal silver tooth replacement option depends on the size of the existing silver filling and the amount of healthy remaining tooth structure. Healthy tooth structure includes portions of teeth that are free from cavity, cracks, and fractures.
The goal when replacing silver fillings is to restore the structure and strength of the tooth with more natural materials and provide a long-term seal to resist complications (leakage, cavities, cracks, root canals, etc). Dentistry is technique sensitive and operator dependent. This means the success rate of any procedure will be primarily dependent on the dentist providing the treatment. It's very important to understand that dental restorations are not "products" which are similar in performance and quality, but rather "services" which are completely dependent on the dentist providing the treatment. Some of the common silver tooth replacement options are summarized below.
Silver tooth replacement options include:
White filling (also known as composite filling)
Ceramic inlay or Ceramic onlay
Crown (usually the last resort)
Changing Silver Fillings to White Fillings
When an existing silver filling is small, and there is a large amount of healthy remaining tooth structure (no cavity, crack, fracture), then a white filling will be the best treatment option. White fillings, also known as composite fillings, come in many varieties with different properties. Ideally, the filling material used will have properties that are similar to tooth structure. Unfortunately, many white fillings are no better than silver fillings because they are completed quickly with poor technique, such as placing the entire filling in one large increment. With the best approach, placement takes significantly longer and the filling is placed in numerous increments to gradually restore the tooth and provide maximum adhesion.
Do NOT Replace Your Old Silver Fillings With Crowns
Some silver teeth need more than a white filling to adequately restore the structural integrity of the tooth. This is usually the case when the silver filling is large and the tooth is structurally compromised. In these cases, treatment options include ceramic inlays, onlays, or crowns. Usually, a crown is avoidable when replacing silver fillings with a biomimetic approach unless all surfaces of the tooth have been affected/damaged. This is very important because a crown involves removing (shaving or drilling) substantial amounts of healthy tooth structure which increases the chance of complications and increases the risk of root canals. In contrast, biomimetic ceramic inlays and onlays restore the strength and function of these teeth while conserving significantly more tooth structure. This minimizes damaging complications and maximizes long term success compared to crowns.
SILVER TOOTH REPLACEMENT WITH A BIOMIMETIC DENTIST
Biomimetic means to "mimic" or imitate "nature". Biomimetic dentistry is the practice of dentistry dedicated to restoring the structure, strength, and function of teeth back to that of natural intact teeth (i.e. normal). Biomimetic dentistry uses materials, protocols, and techniques which are scientifically proven to restore the properties of natural teeth. Biomimetic dentistry can be provided for any type of restoration, from fillings to implants and crowns but the goal is to select the least invasive and optimal technique to restore the tooth. The goal is to restore the strength, function, and longevity of healthy natural teeth. All biomimetic restorations are significantly different from standard fillings, inlays, onlays, and crowns. This is a very important distinction because white fillings, ceramic inlays, and ceramic onlays are usually NOT provided with the biomimetic approach by most providers.
Biomimetic restorations provide the best long-term performance and protection of teeth and minimize the risk of complications. It is the specific materials, provider, and technique that makes the restoration biomimetic.
Normal White Filling VS Biomimetic Composite Filling
Some white fillings are no better than silver fillings because they fail to restore the integrity of the treated tooth. White fillings rely on adhesion to seal the interface between the tooth and filling. Many white fillings have little to no adhesion due to the materials and application technique used. This makes them extremely susceptible to leakage and cavities. When a white filling is placed, a curing light is used to make the filling turn solid and during this transition, the filling material shrinks in volume (size). If this shrinkage is not controlled, there will be sensitivity, large gaps, and leakage which makes these white fillings likely to fail due to cavities or other complications. The lowest quality and simplest type of filling is when the entire cavity is filled in one large increment (known as a bulk-fill filling). Bulk-fill white fillings are popular with insurance provider dentists because the contracted fees make it cost-prohibitive to provide better biomimetic fillings.
Biomimetic fillings take more time because they are placed in small increments or layers to build the tooth back up gradually and compensate for the shrinkage. With this approach, the adhesion to tooth structure can approach the same strength that teeth layers are naturally joined together at the dentin-enamel junction (DEJ). The ability to mimic the adhesive strength of the DEJ allows for incredible treatment possibilities that minimize tooth shaving and drilling. As a result, Biomimetic composite fillings have significantly fewer major complications and have the best long-term performance.
Examples of Normal White Fillings VS Biomimetic Fillings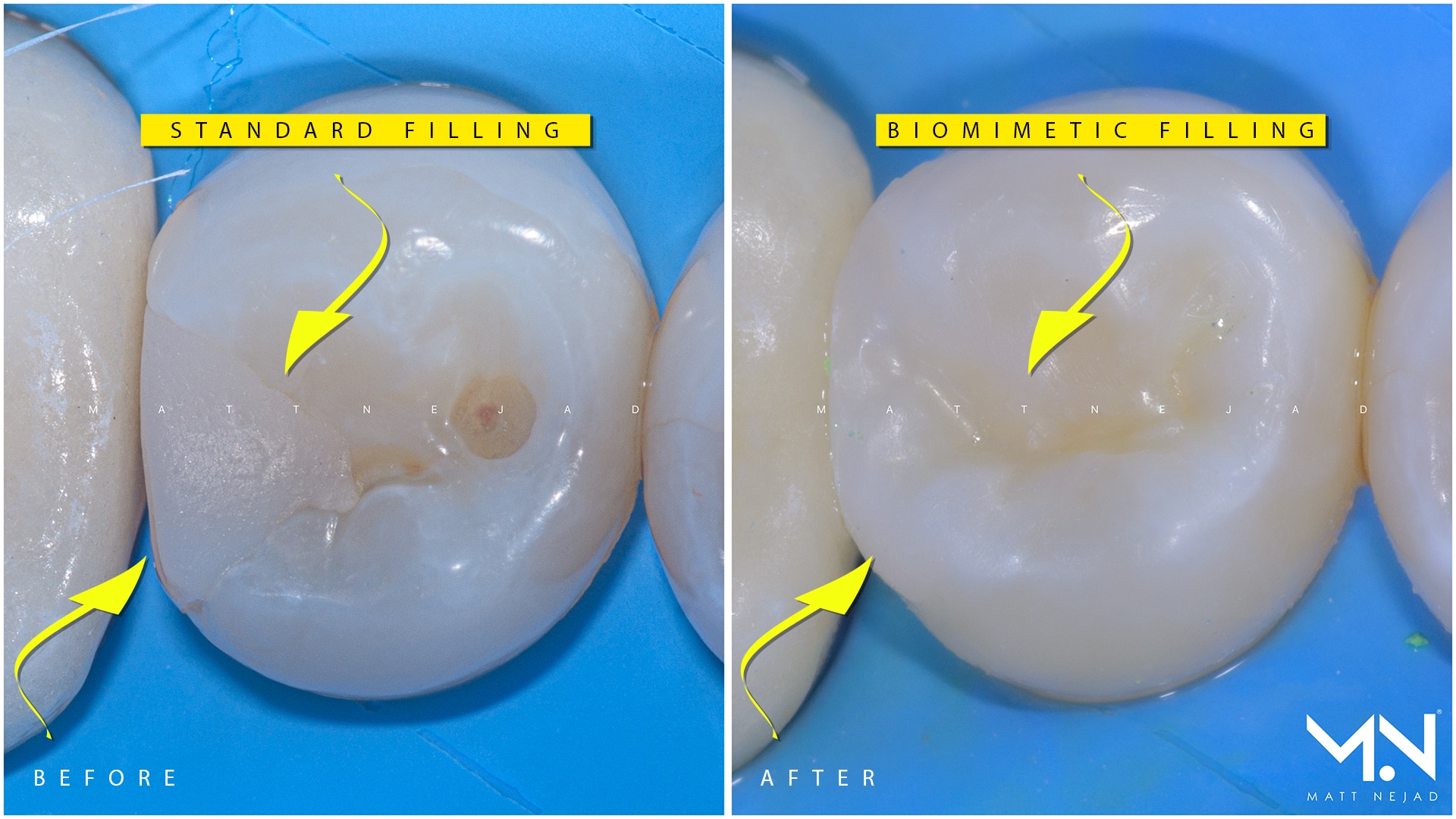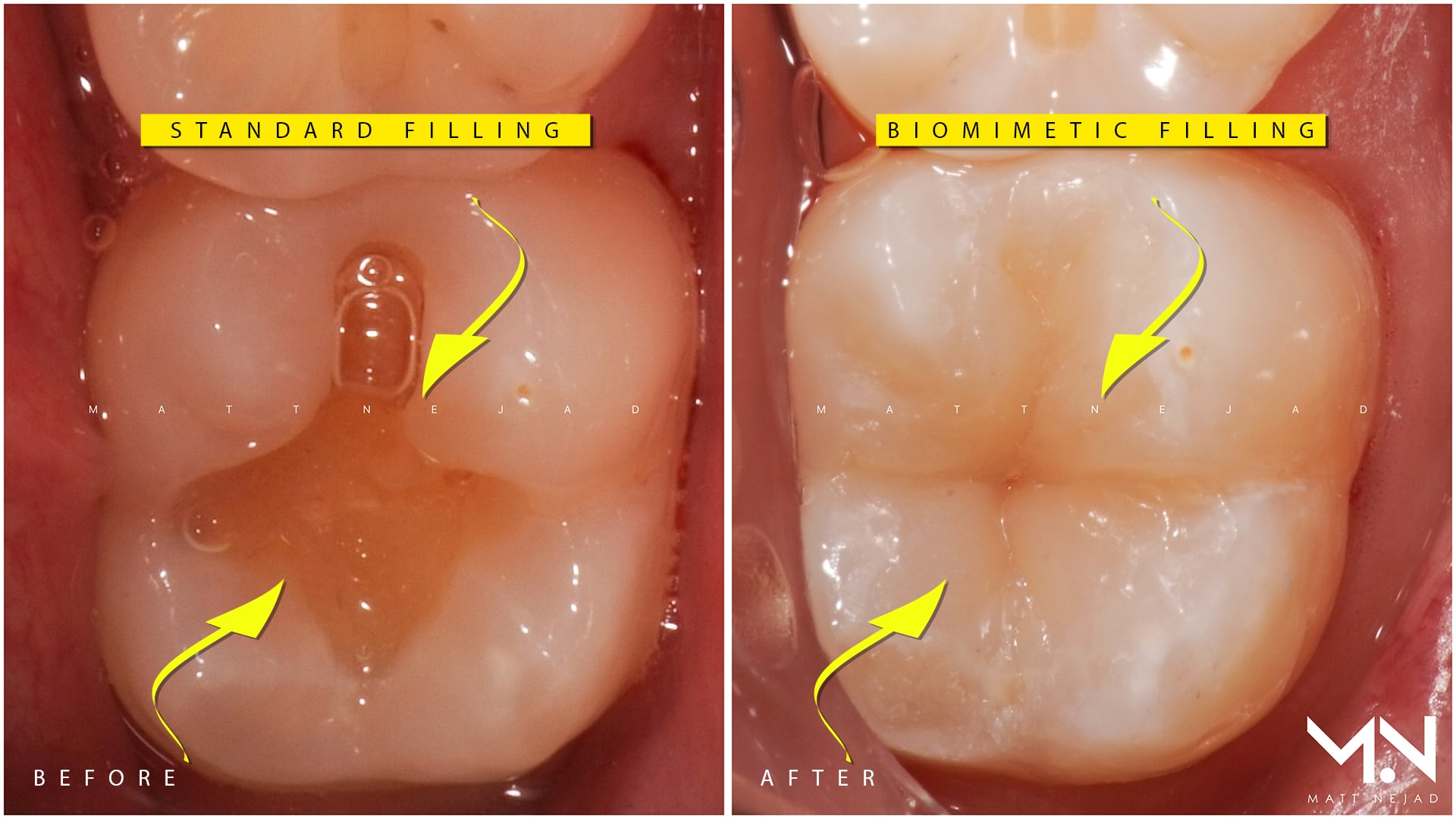 Advantages of Biomimetic Composite Fillings:
Natural appearance – can blend seamlessly with the natural tooth.
Strongly sealed margins- less plaque accumulation and opportunity for leakage and cavities.
Conservative- only the damaged portions of the tooth are removed while healthy portions can be entirely preserved.
Easily repaired- any chips can easily be repaired without replacing the entire restorations.
Restores the strength and function of the tooth to normal levels, preventing cracks and fractures
Biomimetic Composite Filling (center tooth)- By Dr. Matt Nejad
Expertise in Biomimetic Dentistry
I have been practicing and teaching biomimetic dentistry since 2010. Since then, I have helped thousands of patients with biomimetic dentistry and educated thousands of dentists on the techniques and science of the biomimetic approach. My practice welcomes patients from around the world who are seeking the highest quality biomimetic dentistry available.
Silver Filling Frequently Asked Questions
Can I change my silver fillings to white?
Yes, silver fillings can be replaced with white fillings but other options such as inlays and onlays may be more suitable when the filling is large. The ideal restoration depends on the clinical condition of your tooth, with the goal being to conservatively restore the strength of your tooth and provide a more natural material that does not contain mercury.
How much does it cost to replace silver fillings for white?
The cost for white fillings varies greatly because there is no "standard" for the quality of the white filling. A filling is not a product, but rather a service, and the cost is largely dependent on the quality of the restoration and the expertise of the dentist. A small white filling can be performed very quickly with low quality and cost as low as $50. This type of white filling is most common in HMO or PPO insurance offices where the fee is set by insurance companies. In this setting, the time spent on the filling and quality of the restoration is compromised to make the treatment possible. On the other hand, a large white filling can cost as high as $1500 when it is provided with optimal quality and this type of filling takes significantly longer (1-2 hours) to make.
For more information regarding silver fillings please visit: http://www.ada.org/1741.aspx